About Me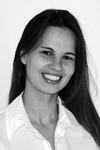 My name is Susanne. I am a graphic designer with a passion for photography and architecture.
My online portfolio gives you a brief overview of what I have created in the past and what I enjoy doing. I am always looking for new opportunities to challenge myself.
If you need a graphic designer, I am here to create the right graphics for your print and web marketing needs. Whether it's the design of a business card or all of the graphic materials for a conference, no job is too big or too small, just ask or email me for a full list of services that I can assist you with.
Moving from Germany to the U.S.A.
I was born in the small town of Ueckermuende, Germany, and I am fluent in both German and English.
When I was 18 years old, I came to the U.S. to be an au pair and to get my education. I received my B.A. in visual arts/graphic design from the University of Maryland, Baltimore County (UMBC) in 2005. Since graduation, I enjoy working as a graphic designer for a financial publishing company in Baltimore (e-mail me for my resume) in a fast-paced and budget driven environment.
Working full-time and being a freelance designer has its challenges, but I gain valuable experiences especially when it comes to time and budget management along with client services skills on a daily basis.

Outside of Work
I am an outgoing and fun-loving person. Family is really important to me, so I try to fly to Germany to visit my family as often as possible. I really enjoy traveling and would love to be on the Amazing Race one day to see even more of this world. There is still so much out there to see and to be inspired by.